WRC-005 is a organosilane-based coating solution for protecting ion migration on the chip surface
depicted as the following figures. Under the electric field, termination metal can be ionized into water droplets which were condensed on the chip surface from the atmospheric humidity. These dissolved metal cation can be moved out and reduced to metal under the electric field, therefore this ion migration can make a electrical path on the chip surface, i.e., short or IR degradation.
| | |
| --- | --- |
| | |
| < Schematic diagram for ion migration > | < Observing ion migration after dropping sodium chloride solution on the chip surface under electric field > |
With WRC-005 coating, chip surface changes into hydrophobic, and therefore doesn't readily absorb water. This will minimize short and/or IR degradation of chip.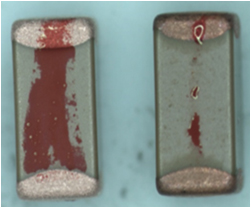 < Writing test with a water-based ink pen ; before (left) and after (right) WRC-series coating >
There is no soldering problem with WRC-005 coating. Effect of WRC-005 coating remains after reflow and even after ultrasonic cleaning.


< After solder reflow with 0805-inch MLCC (coated by WRC-series) >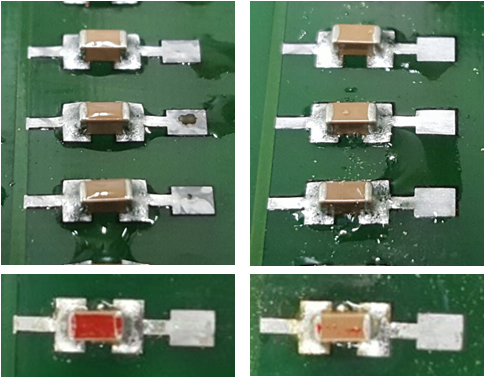 < Different wetting behavior between non-coated chips (left) and WRC-series coated MLCCs (right) after solder reflow and ultrasonic cleaning in water >
Another great merit of WRC-005 coating is that it can improve the chip reliability through protecting moisture absorption. Especially if WRC-005 is coated on chips before plating, it can protect attack from plating solution into pores on Cu termination surface or on interface between body and Cu termination. There is no plating problem with WRC-005 before plating, so much better MLCC reliability is expected through WRC-005 coating.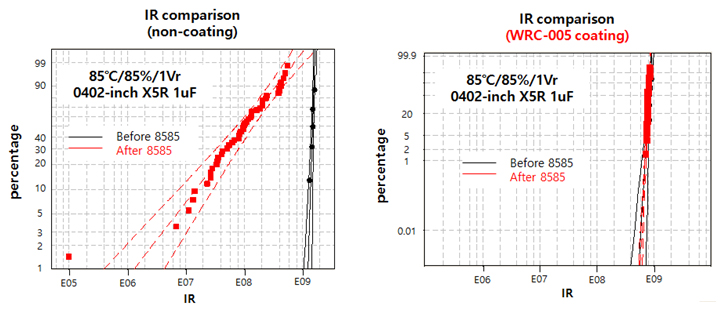 WRC-005 doesn't have any fluorine compound causing green house effect. WRC-005 can be coated on chips with ease; put chips in WRC-series solution for less than a few minutes, wash chips with D.I. water, and dry chips. Please ask us about more detail coating process.
| | |
| --- | --- |
| | WRC-005 |
| Color | Transparent |
| Non-Volatile (%) | 5.0 ± 0.5 |
| Viscosity (mPa∙s) | 5.5 ~ 6.0 |
| Solvent | Carbitol Acetate 2-(2-Ethoxyethoxy)ethyl acetate |