"Flex Crack" and "Thermal Shock Crack" are the most serious extrinsic defects of MLCC except for intrinsic defects derived from MLCC manufacturing process. There are a few methods to overcome this issue. "Soft termination (metal-epoxy)" technique is one of the most effective method, which can minimize flex and thermal shock crack.

FM can provide various high-quality pastes for soft termination;
Ag-epoxy (AST-series), Ag/Cu-epoxy (ACST-series), and Cu-epoxy (CST-series).
FM's pastes for soft termination have the following merits.
- Easy work and store
: They have
very stable viscosity at room temperature,
so they can be stored and used at room temperature.
- Low elastic modulus and
high flex strength
-
Strong adhesion and heat-resistance
: After solder heat test at 290℃ for 10sec., there is no peeling or crack.
-
Good plating quality
: CST series as well as AST and ACST series can give good plating quality.
-
Good electrical contact
similar as normal Cu termination
- Better MLCC reliability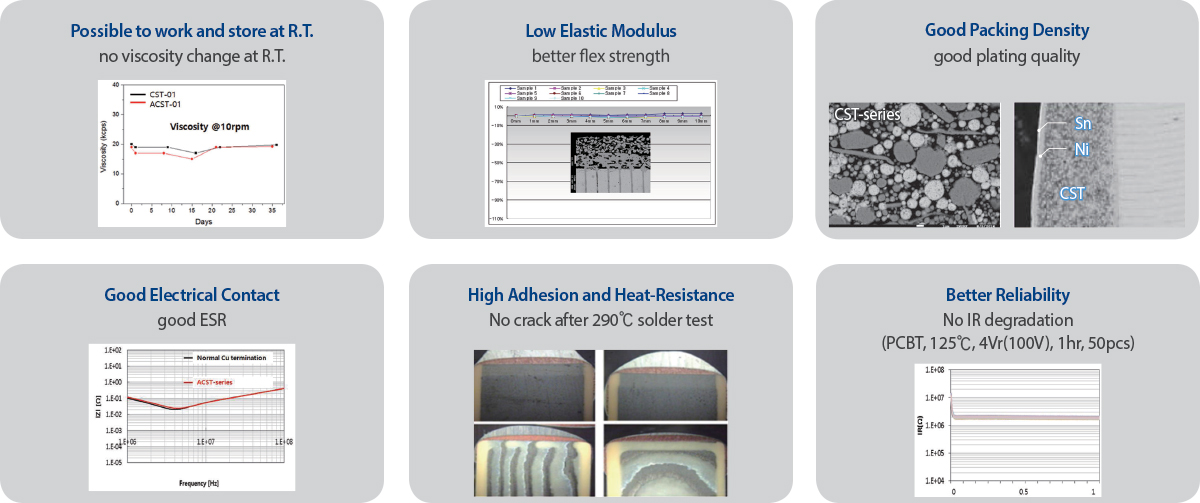 AST-series

ACST-series

CST-series

Metal

Ag

Ag-coated Cu

Cu

Metal Content

> 70%

Curing condition

@ 180 ~ 210℃ for more than 2 hours

Viscosity

5,000 ~ 30,000 cps (@ 10rpm, SC4-#14 spindle)

Resistivity

< 2.0*10-4 Ohm∙cm

< 2.0*10-4 Ohm∙cm

< 1.0*10-1 Ohm∙cm